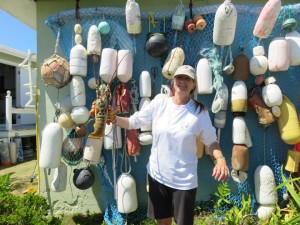 Susan grew up in the suburbs of Chicago, and was always in the process of painting or creating something. While studying art in college, her love of travel took her to the Bahamas and while vacationing there, she met her future husband.
The crystal clear waters of the Bahamas soon became her new home and its teeming tropical life her new canvas. Susan's art studies continued by attending weekly painting workshops under the guidance and in the studios of well known local artists. Going to location painting classes was another way to merge her interests.
A move to educate her children stateside, brought Susan to a quiet, arts oriented town in Florida. Taking classes and workshops with several renowned local talents there has continued to shape Susan's direction and style in her paintings. It also introduced her to various techniques and use of mediums of which oils and watercolors continue to be her favorites for their richness and depth of color.
Although Susan is relatively new on the commercial art scene, her work is in private collections both stateside and abroad. Many of her original pieces are spoken for before they are even completed, and each one is truly a labor of love. If you are lucky enough to be traveling through the islands, it is not unusual to see Susan hard at work, at one of her family's retreats, trying to capture a beautiful piece of the Bahamas on her canvas–if she is not out in a small boat immersed in it!
Continuing to live between two 'worlds' and 2 warm weather cultures, Susan tries to impart the best from both in the creative process, and she hopes her paintings reflect this. Her fascination of the underwater world is apparent, and her love of the wildlife that inhabit these surroundings resonates within her compositions.
Susan's hope is that in visually sharing what she sees, with her style of realism and use of color, that she has captured images of the amazing world that surrounds us and that you are as moved and excited by what you see as she is. If you have never been beneath the waves, you can now 'feel' as though you actually are!